Trade: Apprentice Sheet Metal Worker
Location: Vancouver Island, BC
After some good-natured heckling from his co-workers about 'getting ready for his close-up', we set off to talk with Aaron, to find out more about his experience with STEP and his new career path as a sheet metal worker.
It's clear from the warm smile on his face and his positive energy that Aaron likes his work as a first year apprentice sheet metal worker. "It's interesting. And it's challenging, which I really enjoy. Each day seems to bring something different – I like it, and I think it's going to be a good career move."
Aaron is part of a six-person crew, arriving on site at 7 am to begin each day. He says he is pleasantly surprised by how much of his work requires close collaboration with the other trades on the job site, he nevertheless is happy to be in the sheet metal trade.
"I like working with my hands, being able to build things. Before I started here, I was working with a small construction company as a general labourer. Before that, I was installing office furniture in government buildings. I wanted to get into the trades and onto a better career path, and sheet metal worker was high up on my list… so I'm really happy to be doing this."
Pausing for a minute to brush some site dirt off his pant leg, Aaron reflects on the role STEP has played for him.
I was at the point where I knew I wasn't going to go any further at my other jobs. STEP made it possible for me to give it a shot, to try to improve my situation. STEP is there to help and it's absolutely a tool that you can use to help you achieve your goals.
Aaron is a husband and father with two young daughters at home. He says that responsibility continues to be a big part of his motivation for developing his skills and improving his earning potential.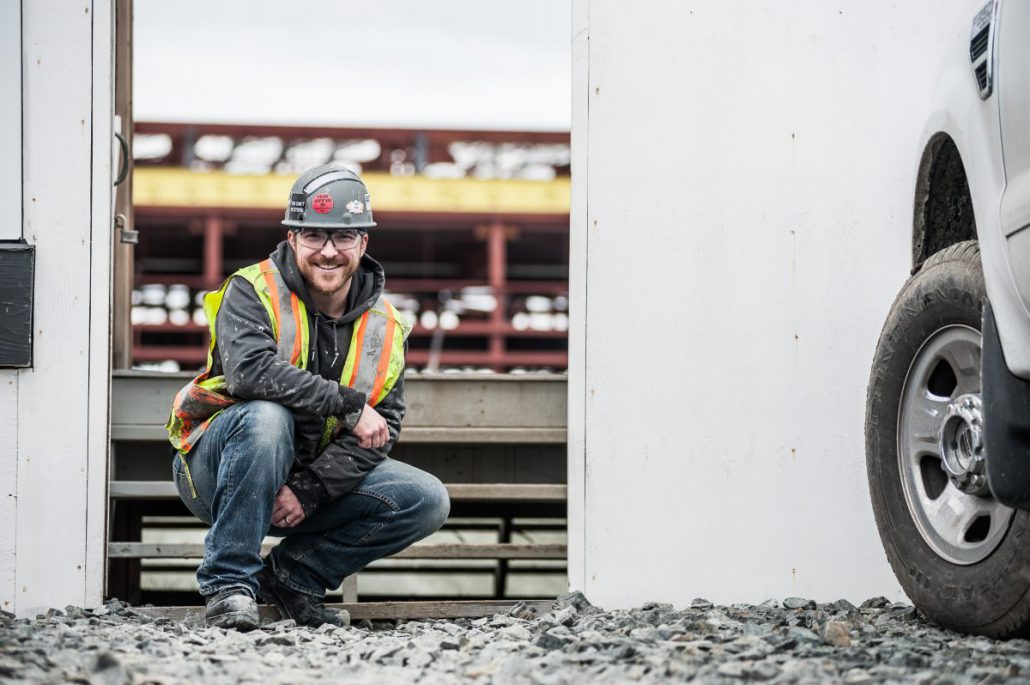 Aaron has a plan and knows what's in front of him. Aaron isn't the only family member pleased with the change. He tells us his wife is very supportive, though the first year has put some financial strains on their household. "She can see that I enjoy my job, and that in the long run it's definitely going to pay off."
"I think it's going to provide a much better life for both of my girls. That's something I'm really excited about as well."
"My ultimate goal is to become a journeyman, which should take me approximately four years," explains Aaron. "At that point I'll be able to make a good living doing this, and I already know I enjoy the job."
The ultimate test of how much you really like something is whether you're willing to recommend it to others, and when we ask Aaron if he's comfortable recommending STEP he doesn't hesitate.
"Yes. I've already recommended STEP to a friend of mine. It's a great program. It's been a tremendous experience and I would highly recommend it to anyone wanting to make a change and improve their life," says Aaron.
When asked if he has any special advice, Aaron doesn't sugar coat.
"It's so tough to take that first step, to just really put yourself out there," he admits. "So my advice is to give it a shot. It's gonna be hard. But it's totally worth it. STEP is here to help and it's something I'm very grateful for."
We had to let Aaron get back to work. Watching him enter the job site and crunch over a hill of gravel in his steel-toed boots, more than one of us – preparing to head back to our office cubicles – was wondering if maybe the trades might be right for us too.
---
https://www.blog.ww.w.stepbc.ca/wp-content/uploads/2013/08/aaron-step-stories-sheet-metal-worker.jpg
773
1030
Skilled Trades Employment Program
/wp-content/uploads/2019/03/step_logo_dark.png
Skilled Trades Employment Program
2013-08-24 18:56:26
2018-09-25 16:45:04
Apprentice Sheet Metal Worker – Aaron Smith