Trade: Apprentice Joiner
Location: Sidney, BC
"One of the best things about being a joiner is that every day is completely different. It's everything from pulling out windows to scraping and sanding a teak deck to repairing a priceless piece of art," says Charles Edmonds, an apprentice joiner at Philbrook's Boatyard on Vancouver Island.
Charles connected with his joiner apprenticeship through STEP.
"The joiner work is weeks of planning and preparation, making templates and milling timber – and then all of a sudden it's all done and in place – and it looks glorious. That feeling is what drives me to be a tradesman. It's seeing something all the way through to completion; a wonderful feeling to use your hands and bring something into the world."
After running his own business doing woodworking and carpentry for several years, Charles found himself losing interest. "I was working for myself and that's a hard go; you need to find a niche," notes Charles. "I wasn't enjoying it too much anymore. I was starting to resent the work because of the administrative stresses."
Charles chose to move on from his business and found himself in the midst of a frustrating job hunt, not sure where to go next. His existing abilities set him apart from the pack, and some lucky timing presented an opportunity. STEP was contacted by Philbrook's Boatyard: they were seeking a woodworker with a high level of skill and training who lived in the area. Charles' name came up when STEP reached out to Camosun College as part of their search.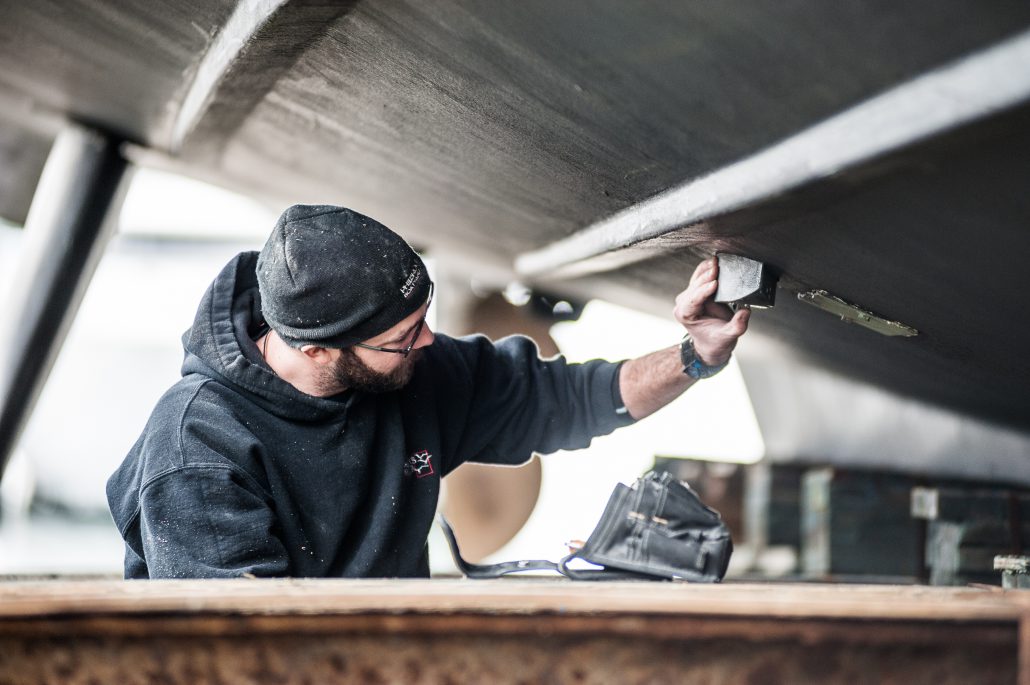 "It was the perfect thing at the perfect moment," says Charles, with the smile on his face saying a great deal. "Someone came and said 'There's a joiner job… are you interested?'. And yes, I was."
Charles describes the process as seamless.
STEP was able to connect Charles with the job opportunity, arranging an interview at Philbrooks. When he was hired, STEP supplied work boots and a set of tools which Charles (then unemployed) would have had a hard time purchasing." It was no strings attached. That was the greatest thing. It's such a relief, too. When you are looking for a job or a career, it's a nervous time. You're not quite sure; it's all very uncertain. Then suddenly – something is available."
"This didn't cost me anything. It put things into my pocket, which was great."
Charles is about halfway through his apprenticeship, and has set his eye on a Red Seal ticket, which he hopes to complete entirely through Philbrook's Boatyard.
"First and foremost is to finish the apprenticeship. I really want to see that through to the end. Philbrook's gets a few more years of high-quality work at the very least, and if things go well I could be here for the rest of my life. And if not? I've taken a big step forward towards what I want to do, and there are lots of other options for someone with a ticket."
---
Related:
Apprentice Sheet Metal Worker – Aaron Smith
Welder – Crystine Czerwinski
https://www.blog.ww.w.stepbc.ca/wp-content/uploads/2018/06/Charles-step-stories-joiner.jpg
773
1030
Skilled Trades Employment Program
/wp-content/uploads/2019/03/step_logo_dark.png
Skilled Trades Employment Program
2018-06-06 16:50:13
2018-09-25 16:41:57
Apprentice Joiner – Charles Edmonds